I discovered Jana Aranya through Satyajit Ray, one of the most illustrious auteurs in cinematic history. Written by Sankar (Mani Shankar Mukherjee), it was a novel in a collection titled "Swarga, Marta, Patal" (Heavenly realm, Earthly realm and Lower realms, translated in resonance of the Lokas in Hindu philosophy). Another one from the collection, titled "Seemabaddha" (Company Limited) was also made into a film by Ray. These two films, along with "Pratiddwandi" (Adversary) are a part of the famed "Calcutta trilogy" – a set of stories based in the turbulent Calcutta (Kolkata) of the 70s.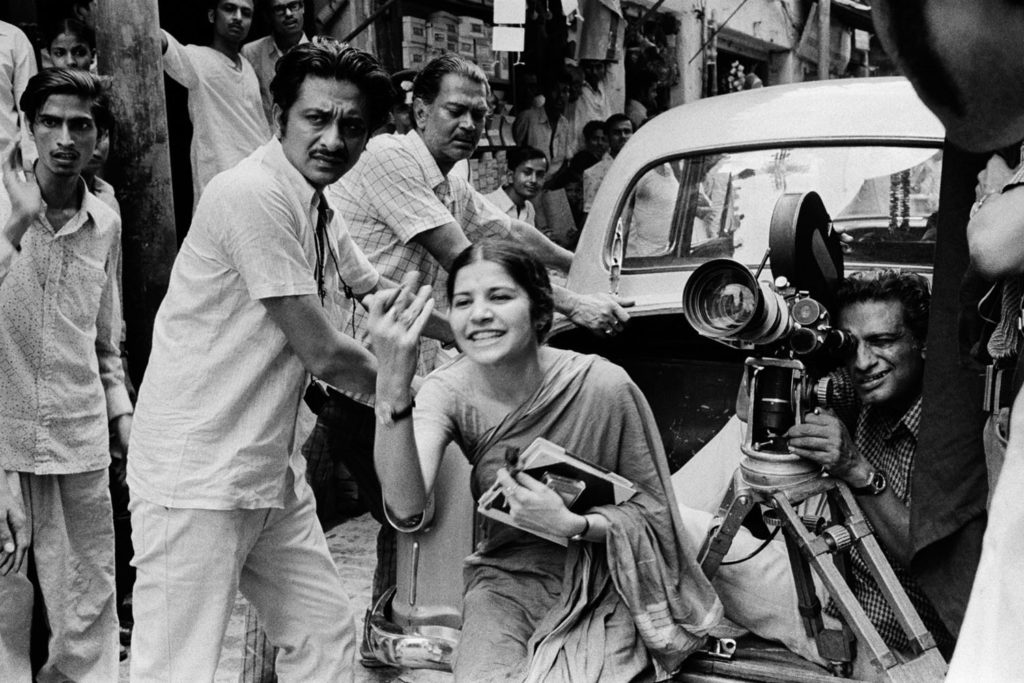 Naxalism, an extreme form of communist idealism inspired by Mao and Guevara, started by Charu Majumdar in Naxalbari in North Bengal, had spread across the state. It had taken a hold of the imagination of the youth, particularly College and University students. They wanted a revolution, by violent means if necessary.
"They are neither afraid to die, nor to kill"
Naxalites unleashed brutal violence on people who, according to them, were a "part of the system". Jhumpa Lahiri's book "The Lowland", though a work of fiction, describes the horrific events transpiring in Bengal, particularly Kolkata.
"They ransacked schools and colleges across the city. In the middle of the night they burned records and defaced portraits, raising red flags. They plastered Calcutta with the images of Mao.

They intimidated voters, hoping to disrupt the elections. They fired pipe guns on the streets. They hid bombs in public places, so that people were afraid to sit in cinema hall, or stand in line at the bank.

Then the targets turned specific. Unarmed traffic constables at busy intersections. Wealthy businessmen, certain educators. Members of the rival party, the CPI(M). The killings were sadistic, gruesome, intended to shock. The wife of the French consul was murdered in her sleep. They assassinated Gopal Sen, the vice-chancellor of Jadavpur University. They killed him on campus while he was taking his evening walk. It was the day before he planned to retire. They bludgeoned him with steel bars, and stabbed him four times."
Eventually, the West Bengal state government went all out to quell the movement, eliminating many, often in the manner of a classic encounter killing – letting them loose in the pretext of a release and shooting them from behind. Similar to the manner in which the elder brother Udayan is killed in "The Lowland".
"For a moment it was as if they were letting him go. But then a gun was fired, the bullet aimed at his back"
Unemployment was sky high, and the general mood extremely pessimistic. All three films of the Calcutta trilogy are in this backdrop, and while "Pratiddwandi" has a more direct connection to Naxalite movement, with the protagonist's brother having joined it, the other two touch upon it tangentially. Nonetheless, one gains from cognizance of the social and political context of the times to appreciate these films.
Somnath Banerjee is fresh graduate, looking for a job. He and his friend Sukumar are among the hundreds of thousands looking to fill a precious few open positions in the grim employment scene. Unable to get a job, Somnath decides to start his own business as an order supply agent, or in plain Bengali – a "dalal".
Someone who would supply the goods that an interested party wants to purchase. Hence the English title of the film, "The Middleman", though Jana Aranya would literally translate to "Forest of people", the human jungle one has to deal with.
He is aided by an experienced mentor, an old acquaintance Biswanath Bose, or Bishu babu, who provides the launching pad – office space, tips and some vital contacts.
When Somnath asks Bishu babu what he could supply, he says – "anything, from pins to elephants", then goes on to narrate, in his own affable manner, an anecdote of how he managed to once dispose of an Elephant on behalf of a beleaguered businessman.
As Somnath gets initiated, he is helped by in particular by Adak. Somnath, according to Adak, he has an appeal that evokes sympathy in people. When Somnath asks if it's his look of helplessness, Adak replies it's because he's still "straight", and not learnt the tricks of the trade yet.
Adak introduces him to Natobar Mitter, who calls himself a public relations man, in reality a well-connected individual with deep contacts in the local business scene.
Somnath is about to land a lucrative contract that will assure him of a steady stream of income – supplying optical whitener for a textile factory. He meets the chief officer of the plant, Mr. Goenka, to push the deal through. But he is perplexed about the deal still not materializing, despite the right signs, and seeks Natobar Mitter's intervention. Mitter uses his expertise to dig deeper into Goenka, and unearths that in order for Somnath to seal the deal, he has to provide Goenka with an escort. Somnath's motivation falters, in a conflict of moral values.
He is finally compelled, after a discussion with Mitter, to sidestep his ideals and face reality.
Things get murkier when the prostitute he is trying to arrange for Goenka turns out to be none other than his old friend Sukumar's sister, Kauna. Ray alters things a bit from the original story, where the sister isn't aware of Somnath being the liaison. In the film, Somnath makes a final attempt to turn back, asking Kauna to return home. But she refuses. Though Somnath succeeds in getting the contract, he relents on his ideals. The "do not disturb" light outside Goenka's hotel room fades into the perturbed eyes of Somnath's father, waiting for his return in the semi darkness of a power cut. Somnath's shadow precedes him as he makes his entry, symbolic of the shadowy business world he's stepping into.
The film ends in irony as he announces his success, much to his father's relief, as his sister-in-law, in whom he had earlier confided to the degeneracy of his trade, casts a circumspect gaze from behind the curtains.
The story provides a dichotomy between success and ideals that Ray likes to explore. He returned to this theme again in Shakha Prasakha (1990), his penultimate film, co-produced by Gerard Depardieu, where an ailing father realizes that the success of his own illustrious children have not been without compromise.
Although it has been over two decades having read the original story in Bengali, I do recall that it was highly readable, despite the complexity of theme. Ray's film adaptation is equally approachable, but goes beyond. The narration, like many of his other films, is a chef d'oeuvre of composition.
The opening sequence in the examination hall, with Maoist graffiti on the walls and rampant copying in open defiance of the invigilators, transitions into a series of freeze frames of youthful faces in boisterous laughter, as if celebrating their ability to mock the system. As the opening credits continue to roll, Ray's incisive orchestral score slowly unfurls in the background. One of the finest montages in cinematic history.
Pradeep Mukherjee portrays Somnath's innocence and confusion with natural ease. Other notable performances are by Utpal Dutt, a doyen of Indian cinema, who plays Bishu babu, Somnath's gregarious benefactor, and Rabi Ghosh as Natobar Mitter, the glib public relations officer – both seasoned actors. Ray cast them frequently in his films, including his final feature, "Aguntuk" (1991).
While the film's cornerstone theme is the price of success, it also eulogizes entrepreneurship. One doesn't always need a significant capital to get started. Enterprise and openness are keys to success, especially in adversity.
The film was made in black in white, in 1975, when most of the world had already moved on to color. In fact Ray had already switched to color in 1973 with Ashani Sanket, and the Feluda story Sonar Kella in 1974. Jana Aranya in b/w is an aberration, as all his films thereafter are in color. It's unfortunate, in my opinion, that someone of the stature of Ray, who was already among the directorial luminaries of the world, was unable to find enough financing to make Jana Aranya in color. Or was it a conscious choice, in tune with the prior two films of Calcutta trilogy?